---
---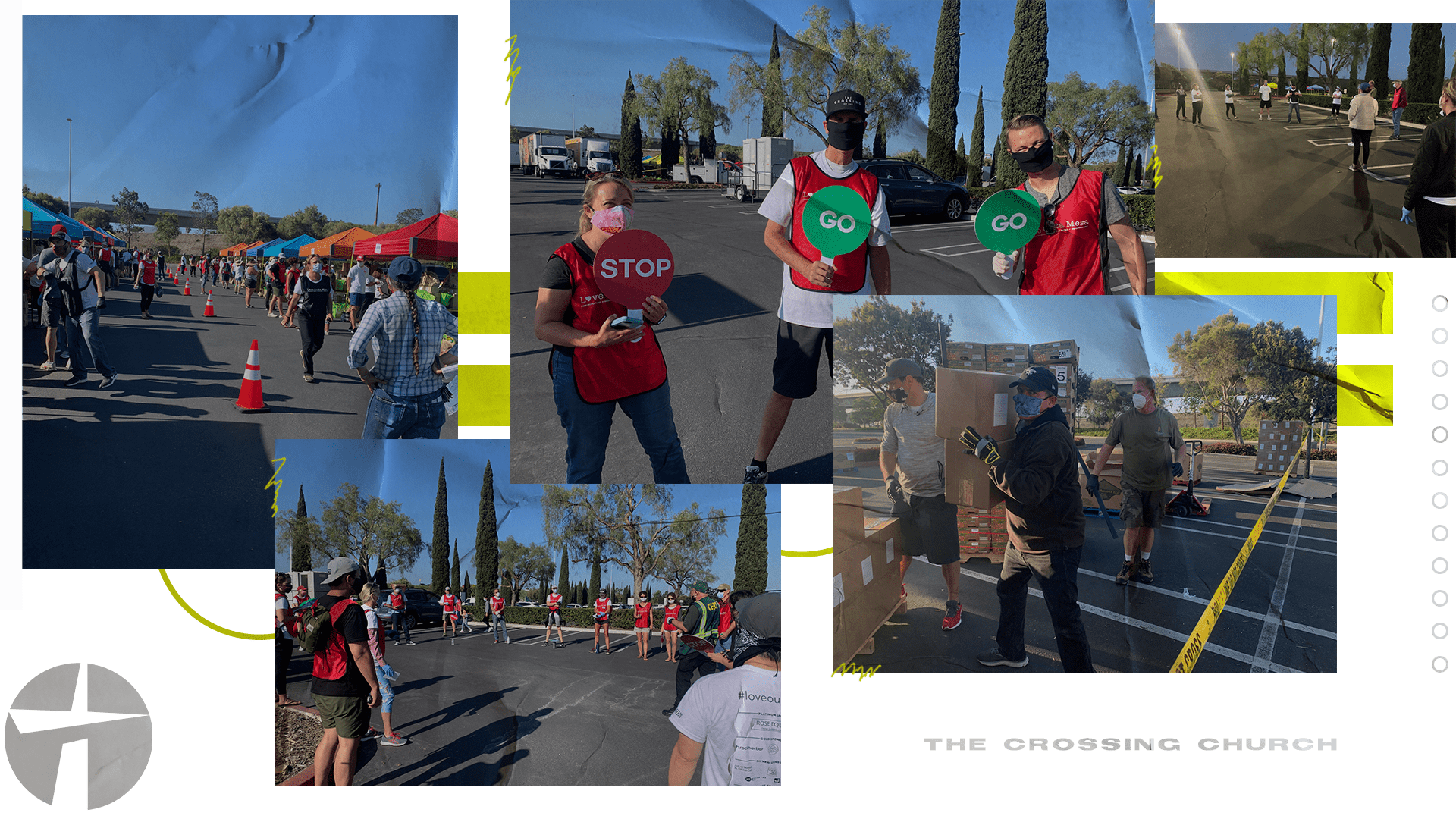 ---
---
We've had so many incredible things happening in and through The Crossing Church this past week. We are so thankful that the church is made up of individuals like you. Together we can do more than we could do apart.


·      We sponsored 9 families from Pomona Elementary with Groceries, so many of which were incredibly grateful.
·      We delivered 21 food packages to refugee families for the Tiyya Refugee Organization
·      We've brought huge amounts of help to Stand up for Kids, the Soup Kitchen, and the rest of our ongoing projects!
·      We filled the needed volunteer positions for the Ikea food drive in a matter of hours!


Thank you to everyone who is contributing. If you have someone who is either in need or would like to be included on this list of ongoing projects let me know.
This week our focus is to continue supporting these 3 projects:
1.     Our Shower and Laundry program onsite at the Crossing Church
a.     Every Monday, Wednesday, and Friday
b.     6am-8am
c.     Volunteers are needed in multiple capacities
2.     The Check In Center
a.     Open every day 6am-7:30am OR 6:30-8pm
b.     Closed Sunday
c.     Need volunteers in multiple capacities
3.     Grocery Sponsors needed for families from Pomona Elementary and others
a.     Many families have been out of work and could use our support!


Please let me know if you would be willing to jump into any of these! We will be continuing our partnership with Tiyya to deliver food packages to refugee families next week. I will send info about that as soon as I get it.


Thank you all! Let's keep it up! We're getting through it and helping others at the same time! I love it!
Ben Glassman
---
Update from andrew - April 21
---
Since 1988, The Crossing Church has been known throughout Costa Mesa as a church that engages in the needs of the community. Thank you for how you are sharing your time, talent, and treasure in this season. Because of you, we are making a difference in our city.
There is no greater time than now for us to show and share Jesus' love. Starting today, I will begin sharing opportunities that The Crossing is stepping into. I invite you to join me in serving our neighbors through one of the options below.
Costa Mesa Emergency Response Food Bank. Many families have lost income and are struggling to make ends meet. Our community is pulling together to help in this area. Through partnerships with Ikea, Community Action Partnership, OC Food Bank, and the City of Costa Mesa, there will be a drive-through food pantry happening every Thursday for the next 8 weeks starting on April 23rd. To register to serve go to:  https://www.lovecostamesa.org/communityservice/projects/all/4-23-2020
Tiyya Foundation. Families continue to be displaced all around the world. Within our county we have several refugee families who have left their homes, and everything behind. We can help make a difference by delivering food packages to families.
StandUp for Kids empowers homeless and at-risk youth toward lifelong personal growth. They are looking for virtual mentors and tutors. This is perfect for those who cannot leave home, and want to help make a difference in this season.
Thank you for considering these opportunities. If you have any questions about these options, and/or need help yourself, contact Ben at
bglassman@thecrossing.com
.

Andrew Brownback
Lead Pastor
The Crossing Church
---
Update from andrew - March 31
---
I pray that you and your family are staying healthy and finding new ways to be connected in community.   In this season of sheltering in place, I'm grateful for how we can connect through technology.   I want you to feel like you can be connected to The Crossing and its people even in this season where we cannot physically be on campus.
What The Crossing is Doing
We have identified specific ways to serve our community and make a difference.  Maybe God is prompting you to do one of these things:
We are hosting a blood drive at The Crossing campus.
We are supporting the homeless with showers 3 days a week
You can join the "Ninja Team" and help people with specific needs like delivering groceries.
We are covering the city with 24/7 prayer.  Sign up for a 1-hr slot.

Online Services
I want to invite you to join the online services at our regular service times.  It's been so encouraging to see familiar "faces" on the online platforms as we continue to worship and learn together.  You can find the various platforms on
thecrossing.com
.
Finally, I want to encourage you to let us know if you need prayer or if you want to talk to a pastor.  We have an amazing staff that would love to talk with you and pray for you.  We are family, and I'm so thankful that we are in this together.
Andrew Brownback
Lead Pastor
P.P.S. We sadly had to cancel The Super Egg Hunt.
---
---
Update from andrew - March 17
---
Thank you everyone who joined the services online this weekend.  It was a great way to gather in the midst of this challenging season.  Our new series, Tell Me Something Good is especially relevant in this time.  I wanted to take this moment to communicate some important updates and ways that I'm hoping you can respond.
On campus small groups are PAUSED for the rest of the month.  Also, we are only doing online services for the remainder of the month.  Church is not cancelled.  It's meeting online and I ask that you pick a service and make it a priority to jump in online.  Streaming information is available on thecrossing.com
Some many of you have asked me, "How can I help?"

PRAY Boldly
Every time you feel fear or worry, bring it to God.
Pray for the leaders of our world to make wise decisions.
Pray for your neighbors and people in your life.
ENGAGE Consistently
Participate in online weekend services.
If you are willing to help someone in need, email me HERE.  We want to be postured to serve and be a light in this time.
GIVE Generously
I'm so grateful that we are in this together.
Andrew Brownback
Lead Pastor
---
---
Update from andrew - March 13
---
Dear Crossing Friends and Family,    

I want to let you know what we are doing at The Crossing to help our county health officials combat the spread of the coronavirus (COVID-19)––and the anxiety associated with it. There's a lot to cover in this update, but PLEASE READ THIS ENTIRE EMAIL so you have accurate information.

In light of our Governor's request that no gathering be larger than 250 people and the importance of social distancing, we have made the decision to move all of our services to ONLINE ONLY for this weekend, March 14/15.

Let me be clear about this, we are NOT canceling church, just changing the location.  These next few weeks provide an incredible opportunity for us to engage and help people who are struggling with anxiety, worry and uncertainty in this season.  In fact, this weekend we are kicking off a brand new series called TELL ME SOMETHING GOOD.  I can think of no more important season where we need to hear something GOOD.  This weekend we will hear about the GOOD NEWS God has for each of us.  
 
So I want to encourage you to jump online and join us, invite some friends in for a watch party and hear what God has in store for us. 

Now the 2 questions I am getting most often right now are:
What about my kids and students?
We are working on some very creative ways to engage them over these next few weeks.  Be looking for more information around that this weekend. 
How can I help? 
Pray- Pray for every affected person, pray for everyone struggling with anxiety and stress Pray in the words of Paul "without ceasing"
Invite some people to watch with you.  People are looking for hope and Good News in this season leverage what God is doing.
Give Online-

thecrossing.com/give

. Giving online will make the greatest impact during this difficult season.

 Thanks everyone.  Let me know if I can serve you in anyway.
 
Andrew Brownback
Lead Pastor