 ---
---
Sat, april 20
5:30p
Sun, april 21
8:30a, 10a, 11:30a
español
DOM, 21 de abril
10a, 11:30a
---
Good Friday Service | Friday, april 19 @ 12p, 7p
Spanish Service | viernes, 19 de abril @ 7p
*Nursery - 5th grade programming available at the 7pm service only
--- ---
Easter Service Times
---
Sat, april 20
5:30p
Sun, april 21
8:30a, 10a, 11:30a
español
DOM, 20 de abril
10a, 11:30a
---
Good Friday Service | Fri, april 19 @ 12p, 7p
*Nursery - 5th grade programming available at the 7pm service only
---
Easter week is a celebration of hope for everyone. If you are looking for a place to explore faith, connect to good people, or bring a little joy to your life, this is the place and the time to check out The Crossing.
---
Going to an Easter service at The Crossing will give you a jumpstart into joy! It's an hour that will inspire & revive you and the people you love.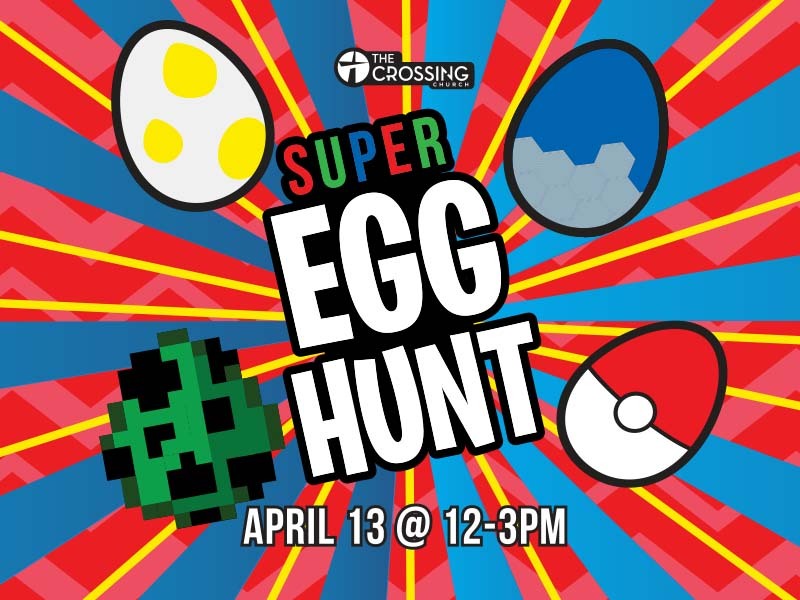 ---
Get ready for a SUPER EGG HUNT!
---
It's going to be a decked-out egg hunt experience like you've never had before, featuring four themed Egg Hunt rooms: Pokemon, Super Mario Bros, Minecraft, and Fortnite!

This event is FREE, so bring all your friends. Plus, you can make a difference in other kids' lives by bringing non-perishable food items for StandUP for Kids, a local non-profit that serves homeless youth.

Here's a list of the items that are most helpful: tuna, fruit, canned pasta, soups, Vienna sausages, corn, baked beans, chili, Sloppy Joe, lemonade, iced tea, nuts, pasta sauce, dry pasta, rice, mac-n-cheese, seasoning, salt and pepper, peanut butter, cereal.
Please visit the Registration table this Saturday to sign up.
---
ABOUT THE CROSSING
The Crossing is a church in Costa Mesa for people from all walks of life and backgrounds. At The Crossing you don't need to know anything about God, the Bible, church or Christianity. We welcome everyone, including those of us who don't have it all figured out. We make a positive difference in our communities with the Love of Jesus.
We hope that you will choose to join us this easter!
Get Directions ---
StandUp For Kids is committed to providing healthy food to those we serve throughout the year. Food from The Crossing's food drive will be used to provide groceries to young adults ages 18-24 who are moving from the streets, from living in their car, or being doubled up into a room rental or an apartment for the first time.  Many of these young people are college students and are both housing and food insecure, meaning they're sleeping in cars and don't have the proper food to eat.
---